Materials & Supplies
Now it is time to create Your Painted Story in our Painted Journals, or any other art journal or altered book for that matter. The materials you use should be those that spark your passion and express your unique style, but it can be fun to experiment and try out various tools and techniques to get a feel for what you like. I encourage you to start with what you have available and go from there. More does not necessarily mean better. Sometimes simple is most effective.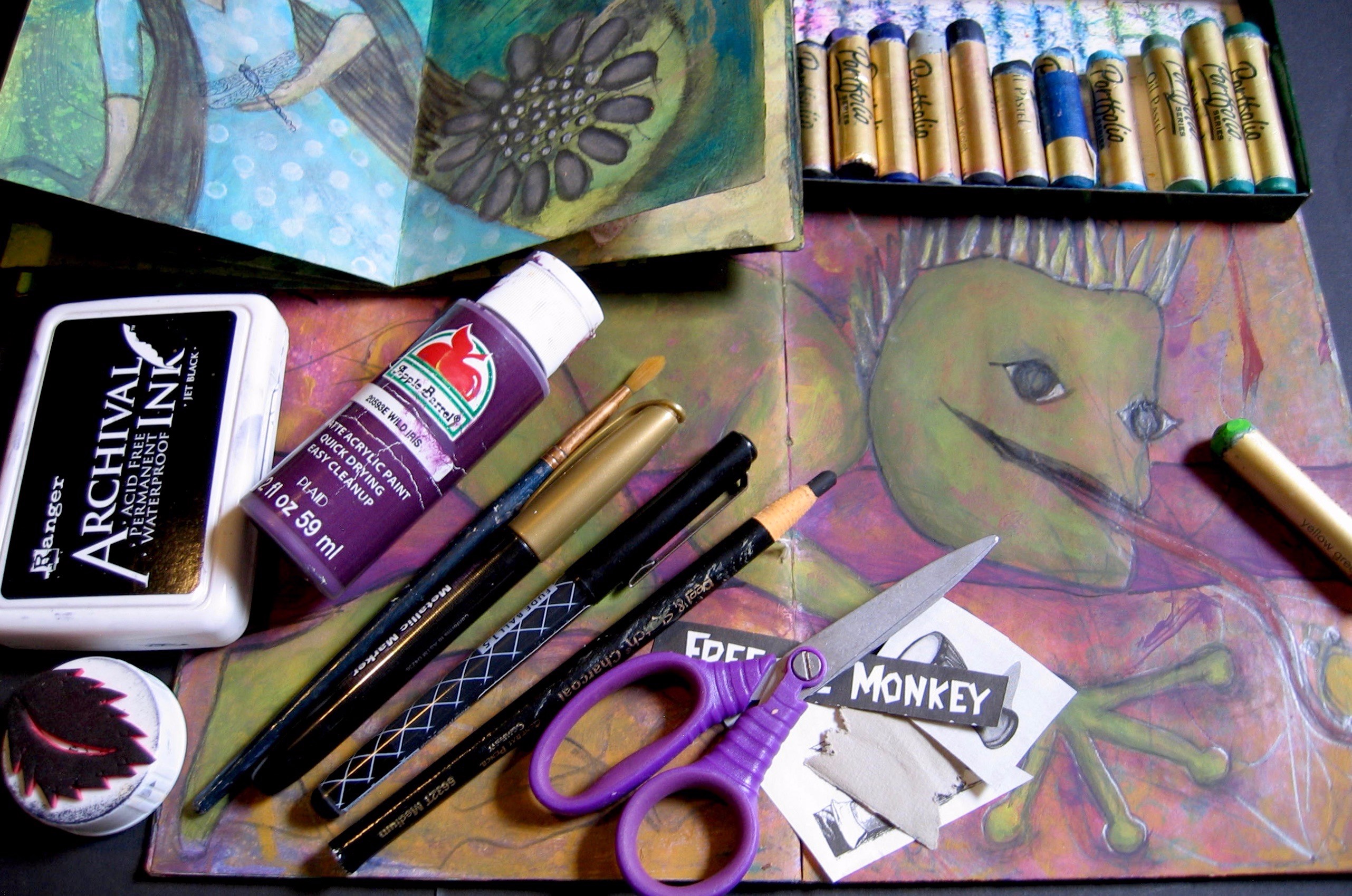 The Basic Supplies that I use most of the time are:
Journal - with medium weight, primed or sized paper that I can paint on without too much cockling.
Acrylic Paint - I prefer matte acrylic for almost everything and just use a satin glaze at the end if I want it more glossy. Matte allows other media to adhere to it, but tempera, watercolor, gouache and ink work too.
Clear Matte Acrylic - I use this to glue collage items, thin down colors to be more transparent and for a final glaze to seal the page. Satin & gloss finish work too, but it's harder to draw on top of the slick surface.
Brushes - Inexpensive brushes in a variety of sizes work great for this, from large & flat to thin and pointed.
Pencils - I use graphite and charcoal pencils a lot for mark making, shading & definition.
Pens - I use black and white pigment pens to add detail and definition, but even cheap permanent markers and other pens work too. Experiment to see what you like.
Letter Stamps & Stamp Pad - I love using a basic set of letter stamps to add words to my pages.
Collage Items - I have a few little bags that I put cut out images and words in to have available when I want to do collage. I also use items like teabag paper, tissue paper, ribbon and whatever else looks interesting to me.
Glue Stick - is fast, easy and not too messy for collage and other glueing applications. Get the strongest kind you can or it won't last as long.
Additional Optional Supplies
Stencils - I have inexpensive stencils that are simple patterns from discount stores. I also cut my own designs in the lids of old yogurt containers. These are great for layering and background texture.
Thicker modeling paste or acrylic - can be fun to add textures to the pages and then paint over them.
Water Soluble Pastels or Pencils - Portfolio and NeoColor II are my favorite brands. Portfolio are inexpensive and really creamy and a wonderful way to add more depth and color to your pages. NeoColor are wonderful too, but much more expensive.
Oil Pastels - are fast, bold and an easy way to cover a lot of surface. The only catch is that they don't ever really dry and so the pages can smear or stick together if you apply it very thick.
Inks - in spray bottles are wonderful for misting color onto the paper or through stencils.
Bubble wrap, Fabric, Doilies etc. - anything with texture or holes that you can stamp or stencil or collage with to create texture and patterns.
Experiment - Try what you have and see what happens. This is more about experimenting and having fun than it is about striving to have a perfect end product!